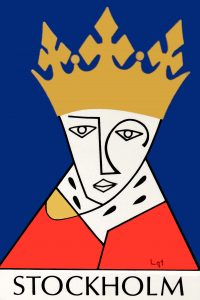 St. Erik, Stockholms skyddshelgon, Kung av Sverige 1150-1160. Designad av konstnär Bo E. Lundqvist. Godkänd av Statliga myndigheten Riksheraldikerämbetet, Sverige, Juli 16, 1967.
Saint Erik, Patron Saint of Stockholm, King of Sweden 1150-1160. Design by the artist Bo E. Lundqvist. Approved by the Heraldic section of the Government archives in Stockholm, Sweden, July 16, 1967.
Saint Erik, Saint Patron de Stockholm, Roi de Suède, 1150-1160. Dessin du peintre Bo E.Lundqvist. Le tableu est approuvé par la section Héraldique des Archives gouvernementales à Stockholm le 16 juillet, 1967.

Erik der Heilige, Schutzpatron der Stadt Stockholm und König von Schweden von 1150 bis 1160. Das Design stammt vom Künstler Bo E. Lundquist. Seine Bildkreation wurde am 16. Juli 1967 genehmigt und zugelassen vom schwedischen Bundesarkiv (riksarkiv); heraldische Abteilung.